I'm not sure about you, but during the middle of the week I simply can't think of any ideas of what to eat and we've found ourselves eating always the same thing!
As we cook for the 3 of us (I don't do a different meal for her), the challenge was to ensure we would cook something that she would mostly eat.
A few months ago I've bought a meal planner (magnetic) for my fridge. But I was not always using it. It was mostly for my husband to write whatever I would have to buy for shopping. He's the one doing most of the cooking middle of the week but I'm always the one sorting out the shopping.
For the last 3 weeks I've been spending some time of the weekend to put together a meal plan that it's easy enough for him to follow and that allows me to synchronise the shopping with the plan. It needs to be something simple enough that doesn't require complex instructions. Here's what I have for this week
Monday: Quinoa salad with olive oil, honey & lemon dressing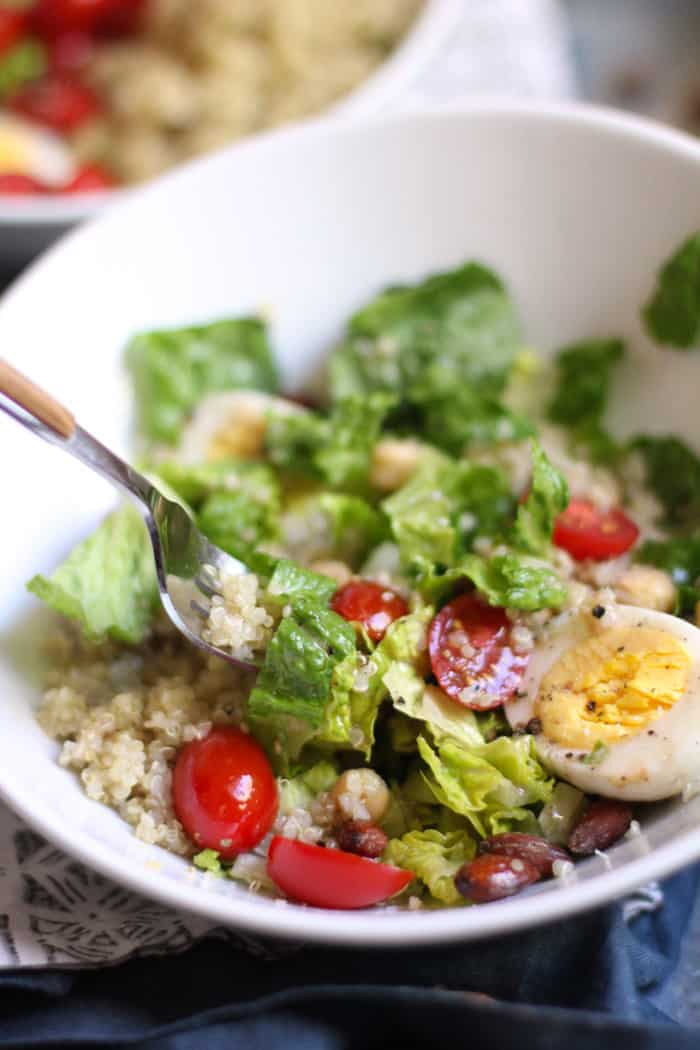 Original recipe from here 
Tuesday: Pasta Al Aglio (Garlic pasta)
Tuesday is our pasta day, so for this tuesday I've chosen pasta al aglio, because we all love it and because it's one of his favourite recipes to put together.
Similar recipe here (I don't use the pepper as per recipe)
Wednesday: Zucchini boats with cheese
My toddler is addicted to cheese, so hopefully this will be a way for her to eat some vegetables
Recipe from here
Thursday: Fish baked in foil with olive oil, honey and lemon + jasmin rice
Again, Thursday is our fish day. For a long time it was salmon day until I've got really bored with it
Similar recipe here
Friday: Open to whatever we feel on the day
Desert for the week: Banana ice cream with peanut butter
I love this banana ice cream and it's guilty free, so I know she can have it as well. Similar recipe here
Grilled chicken is also a favourite in the house 🙂
Any meal ideas you would like to share? How to you plan your meals for the week? For the record I'm far from knowing how to cook or being known for my cooking, but I do try to find favourable foods which are also guilty free (e.g. replace mayo with yogurt dressings, or refined sugar with honey)